Collection
DIY PAPERCRAFT LAMPS
Looking to add a touch of magic to your home decor? With these pre-cut templates, you can easily create stunning 3D paper lamps that will stand out in any room. From a whimsical Octopus Lantern to a serene Sea Turtle Lampshade, each design brings a sense of wonder to your nursery, kids' room, or bedroom. Transform your space into an underwater wonderland today.
DIY PAPER LAMPS
Unleash Your Creativity, Minimize Your Footprint
Embark on a sustainable crafting journey with our eco-friendly DIY Papercraft Lamp collection. Crafted from durable paper, our lamp kits offer a delightful assembly experience while reducing environmental impact. By designing our products as flat-pack, we optimize shipping efficiency, saving costs and easing the burden on our planet.
Follow the numbered edges and flaps for a seamless assembly experience, guided by step-by-step illustrated instructions and helpful how-to videos.
Illuminate your space with pride, knowing you've created a beautiful, eco-conscious masterpiece. Discover the joy of sustainable creativity with our DIY Papercraft Lamps today.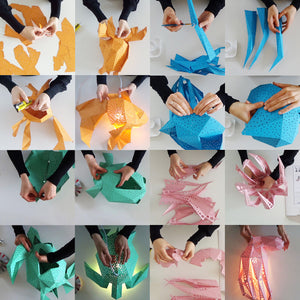 You're viewing 1-9 of 9 Products