Collection
KOI FISH LIGHTS
Transform your home into a serene oasis with our collection of Koi Fish Lights. Embrace tranquility and the power of minimalism as you experience the calming presence of these stunning lights. With designs inspired by the beauty of Koi fish, each light is a work of art that will enhance any space.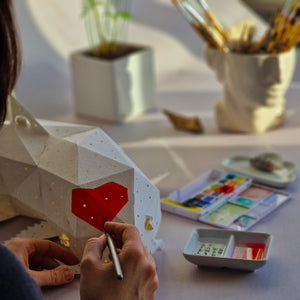 Embrace the Timeless Elegance of Koi Lights: Infuse Your Space with Unmatched Serenity
The Koi Lights blend origami and Scandinavian aesthetics. The minimalistic yet lifelike design represents the greatly admired Koi fish which symbolises love and dedication in Eastern cultures. The lampshades are made from non-tearable washable paper fabric and painted by hand. Fully assembled ready-to-hang, the lamps are carefully packed to be safely delivered to your door.
You're viewing 1-5 of 5 Products